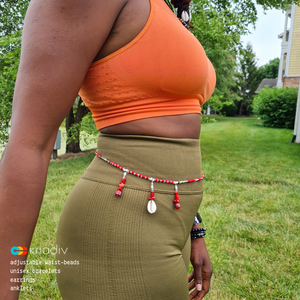 Shango - Inspired - Waist Bead - 𝗧𝗵𝗲 𝗢𝗿𝗶𝘀𝗵𝗮 𝗖𝗼𝗹𝗹𝗲𝗰𝘁𝗶𝗼𝗻
Oral tradition describes Shango as powerful, with a voice like thunder and a mouth that spewed fire when he spoke. He is also the patron of music, drumming, and dancing while representing male beauty and virility, passion and power.  His colors are red and white, and his day of the week is Friday and the 4th day of every month. Red, white and clear glass beads and 6 tassels symbolizing Shango's Orisha number. Offerings: apples, bananas, red rooster, rams, okra, and anise candy.
Made to order
Each unit will vary. 
Kriadiv waist beads are palindrome [ identical on either side ]
Nickel-free closure: Lobster claw 
Dry thoroughly if exposed to water. Not recommended for exposure to water, oils, or soap as the color may fade over time.
If 50"+ is selected please specify waist measurement at check out in the special instructions box.

This unit is not activated.

Any personal variation request may result in an additional charge. (E.g. additional tassels/shells). 
Your unit is made to order and may take up to ten business days to ship, please keep this information in mind when ordering, and when selecting your shipping speed.
Keep out of reach of children, and pets.
Please do not guess your waist measurement. The best way to measure is with measuring tape found at your local dollar store. Select the corresponding size in the drop down menu. There are no refunds/exchanges for wrong size selection. Any edits or adjustments requested to your waist bead after receiving it will incur a $15 charge and round-trip shipping at customer's expense.
Please leave a review!